Evening Beit Midrash in the Midrasha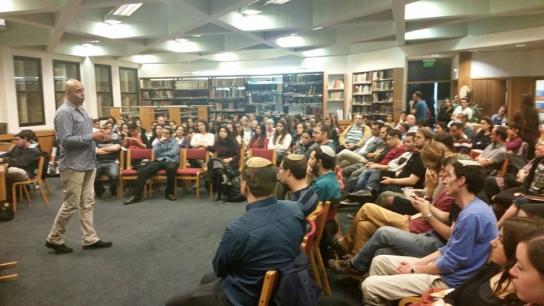 The Evening Beit Midrash initiative was launched in Fall 2014 by Midrasha Director Dr. Tova Ganzel, who recognized the need of many BIU students, andgraduates of Yeshivot and Midrashot, for a cultivating and open-minded framework to study Torah. The Beit Midrash offers men and women an opportunity to learn together. We are thrilled with the success of this program which now boasts over 100 participants in each evening session.
Sunday Evening Beit Midrash: Torah and Cholent
Initially organized as a get together for Anglo students to study Torah,, the Torah and Cholent Beit Midrash was the initiative of student Daniel Gross. As these casual home classes grew, Daniel turned to Dr. Tova Ganzel who graciously offered the Midrasha as the setting for a bigger, more organized framework for these gatherings, which now boast about 80 participants each week. These animated evenings have transformed Torah learning in English into a key aspect of BIU's Anglo student culture. Although the Beit Midrash is on Sundays, participants are served with a hot dish of Cholent every week, so that their stomachs as well as their minds are replenished.
Monday Evening Beit Midrash: "B'Go"
On Monday nights, about 150 men and women get together for a joint Beit Midrash "soul search." This unique framework offers eye opening lectures by speakers with exceptional life stories and meaningful personal journeys for the students to be better equipped for life's challenges. These invigorating gatherings last till the wee hours, leaving all participants craving for more of the same.
Tuesday Evening Beit Midrash
The Tuesday Beit Midrash is distinct in that participants study in Havruta (studying in pairs) rather than groups, enabling every Havruta to discuss specific questions of personal interest to them. Each meeting is led by a different lecturer, preceded by a 45 minute Seder Limmud in which men and women study together with the lecturer circling around the room and answering their questions. This year, 60 students participate in the Tuesday Evening Beit Midrash program, enjoying a light meal served before every session.
Last modified: 10/04/2016